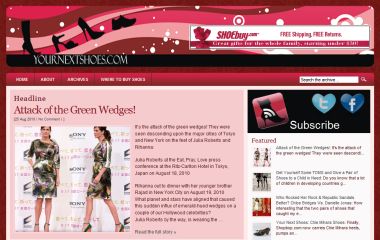 Footwear for Kids, Men & Women
Yournextshoes.com is basically a site dedicated to the shoe fetish, or anyone who is on the look out for the next trendy pair to buy. Our goal is to become the go-to central for the latest and hottest footwear to hit the runways and the streets. Even shoes for kids will not escape our fancy.
Of course, the latest shoes to hit the celebrity scene will forever be our favorite topic. Celebrities are after all, walking advertisements who most often than not, fashion the most updated must-haves of the season.
Handbag for Girls and Women
When it comes to fashion, women love one thing above all else – handbags. Shoes usually come second, while clothes come third. Some even go to the extent of starving themselves just to own the most coveted handbag of the moment.
The fascination may have started centuries ago, when handbags were made of silk or satin and embroidered and beaded in the most elaborate of ways. But one thing is for sure, the attraction for this piece of accessory has magnified a million times today.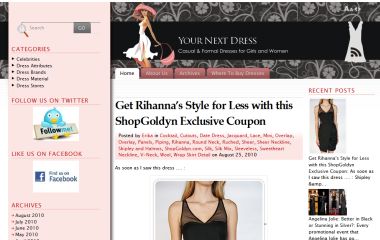 Casual & Formal Dresses for Girls and Women
As little girls, mom's formal dresses, evening gowns and party dresses are part of playtime. Along with mom's shoes, mom's makeup and mom's jewelry, dresses are included in the hours and hours of fun spent playing pretend and acting and wishing to be all grown up.
When the teen years roll around, one particular ritual marks a young lady's coming of age: prom. Teens love to experiment and make a statement with different fashion styles, and with all the ball gowns and homecoming dresses available out there, there's bound to be a perfect prom dress for every girl.
Celebrities In Boots & Boot Reviews
Did you know that one of the oldest pair of shoes ever found was in the form of a boot?
On display at the Museum of Natural and Cultural History are shoes found in Fort Rock Cave, dated to be at least 9,000 years old. The lower part of the shoes are made of twined fibers and the long ropes attached to the soles extend up the leg to cover the ankles and tie around them. Other thousands-of-years old shoes also had netting, ropes, skins, or shafts that covered and extended up the leg, protecting the wearer from snow, water, mud, and injuries.
Bringing You Crossbody Bags, Handbags and Purses
Cross body bags, also known as sling and messenger bags, is the perfect partner for the hip and carefree fashion-holics. The bags come with a sling which you wear across your body through your shoulders. Through the years, there has been quite a number of changes that the cross body bag has undergone. Originally, it was worn by messengers which meant that they came in big sizes enough for all the messenger's stuff to fit into.
Find Scarves and Wraps for Men and Women
This site is devoted to everything about scarves and wraps – from celebrity spots, to product reviews, to practical tips that will help you fall in love with scarves and wraps a little more.