This is a follow-up to the blog post I wrote the other day on newbalanceshop-jp.com, which is a scam website advertising on Facebook.
I sent an email to GoDaddy about the domain in question having incorrect WHOIS data and that newbalanceshop-jp.com is hosting a counterfeiting website:
"Both newbalanceshop-jp.com and 2013shop-jp.com are registered using fake addresses and are participating in illegal counterfeiting and false advertising."
The response I got back from GoDaddy simply stated:
"We have neither access to, nor jurisdiction over the content on this site.
Any issues regarding the content of the website will need to be addressed either directly to the owner of the site or to the hosting provider (who should be in a position to assist you with your concerns). If you have a complaint about the issue of ownership or wording of the domain name itself (as opposed to the content hosted on the associated website), that matter will need to be taken up with the domain name owner directly, or should be filed in a UDRP or court proceeding. Our internal policies, as well as ICANN regulations, prevent us from acting as the arbiter of domain name disputes.
To determine who the web hosting provider is, you can use a publicly-available tool like http://www.kloth.net/services/nslookup.php. This tool will give you the resolving IP address which can then be compared to ARIN.net's (http://www.arin.net) IP allocation database. This will give you the relevant information for the true hosting provider".
To this I responded that:
"My concern is really that the person has registered both domains using false contact information. I don't think he is using a real name. The address does not exist. Isn't it a concern to you that a person registered a domain name with GoDaddy using false information with the purpose of participating in illegal activities?"
To GoDaddy's credit, I got a response soon thereafter saying that:
"Unfortunately, we cannot assist you with this issue directly. It is the domain registrant's responsibility to review and maintain their WHOIS data. If you feel that the Whois information on a domain is incorrect or outdated please contact the domain's registrar to request a record update. If Go Daddy is the registrar, please report invalid Whois data to us.
Visit http://who.godaddy.com/whoischeck.aspx and search for the domain name in question. Once the Whois information has been retrieved, there is a link at the very bottom that says "Report Invalid Whois". Fill out the form found by clicking the link."
The form they are asking me to complete looks as follows: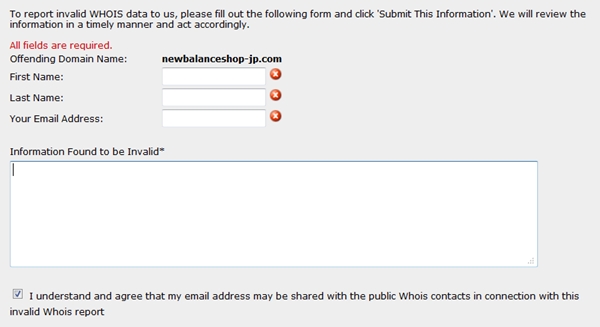 Notice the text at the bottom stating that "". In other words, GoDaddy may or will share my email address with the criminals behind newbalanceshop-jp.com. Knowing that they're based in China and engaged in illegal activities, that is probably not a good idea. You may argue that blogging about it isn't much smarter, but at least now you may be a little more educated about how the reporting of incorrect WHOIS data works.