Jon Loomer, a highly respected authority on Facebook marketing, published a blog post at the end of last year titled "Why Our Obsession with Facebook Page Post Reach is All Wrong".
While I often find Jon's insights helpful, I was slightly annoyed by the above article when I first read it. Initially, I let it slide. However, since then, Jon has been republishing the same blog post on his Facebook page on at least a couple of occasions.
Basically, he argues that Facebook needs the news feed to be a good user experience, and that they can't possibly show all the content published on Facebook. Also he rightly points out that a high reach not necessarily equates to high revenue. In theory, Facebook will only show your content to fans who are really interested.
While Jon is technically correct, he misses the point. Let's take a brick-and-mortar store like Walmart as an example. They have built up an impressive audience of more than 34 million likes: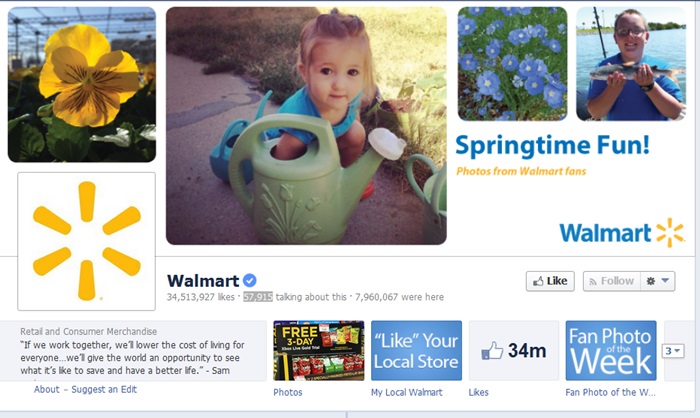 While I am not familiar with the history of their Facebook page, most likely they've spent a significant amount to reach a fanbase of 34 million fans. For example, according to Time Magazine, they bought up all of Facebook's advertising inventory in December of 2012.
Now what? They are starting to realize that their investment in their Facebook page has been a tremendous waste of money. While it's not possible to see the reach of their individual posts, the talking about figure is just 57,915, or 0.00167% of their potential audience. Walmart's social media team could undoubtedly need some ideas on how to create more engaging content. However, I doubt Walmart would have made a similar investment if they had known that they'd end up reaching virtually no one through their Facebook page.
In summary, Facebook business page owners are annoyed as they invested in their Facebook pages based on a false premise. Mark Zuckerberg could have warned advertisers that the reach of Facebook pages may end up approaching zero, but he did not. The team at Walmart has every reason to be upset about the reach of their Facebook posts.