Last week, I participated in a podcast with Christian Brodin, who runs the blog Maverick CEO. In the podcast, we discuss social media trends and how Your Next Shoes has developed a fan base of over 1.8 million on Facebook. You can listen to the podcast on iTunes.
As part of the conversation, I briefly touched upon an issue that I've pondered on for a while. While I travel relatively infrequently, I enjoy leaving hotel reviews on TripAdvisor. An early adopter of user-generated content, the website is used by millions of travelers. The valuation of TripAdvisor is higher than that of traditional booking sites like Expedia and its influence on travelers is hard to overestimate.
Social listening is defined as the process of identifying and assessing what is being said about one's business. In case of hotels, the best place to listen is Tripadvisor. Still, I've long been surprised by the failure of hotels to respond to positive and negative feedback from their customers.
According to Tripadvisor, the top 5 hotels in Tokyo right now are Park Hyatt,  The Capitol Hotel Tokyu, Hotel Ryumeikan, Mandarin Oriental, and  Four Seasons Hotel.
Tripadvisor makes it easy for hotel representatives to respond to comments left by customers, but the top 5 hotels in Tokyo all fail at responding. Here's an example of a recent review left three months ago by a senior contributor for the The Capitol Hotel Tokyu. So far, no one from the hotel has responded to the customer's feedback: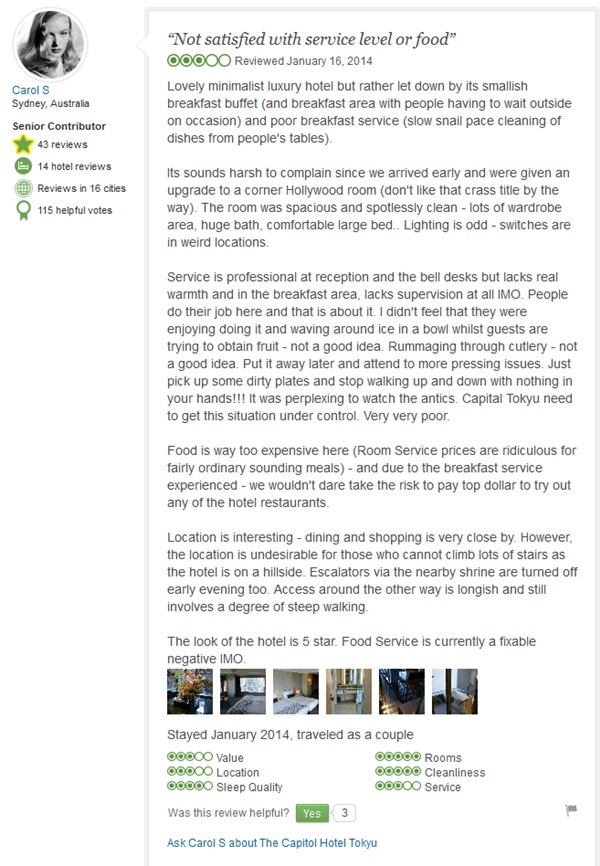 Park Hyatt Tokyo, which currently is ranked number one, seems to be in the habit of only responding to negative feedback. Customers leaving positive comments, by far the majority, are ignored. While better than not responding at all, it ends up highlighting the negative comments and draws attention away from the positive ones. It would just be common courtesy to thank satisfied customers for their stay, their feedback, and to welcome them back.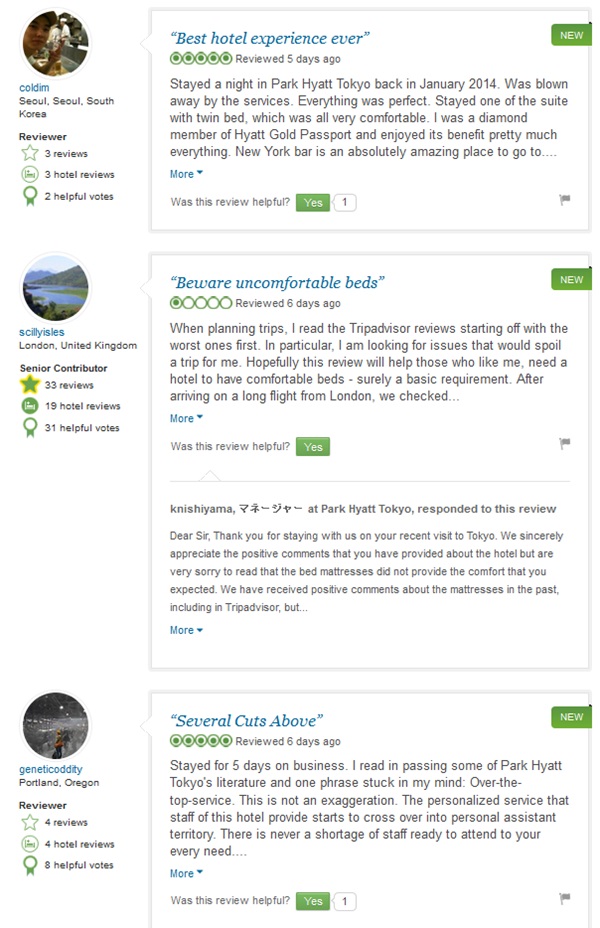 While a little dated, this article from the Guardian discusses the unpopularity of Tripadvisor within the travel industry. Fake reviews and over-demanding customers seem to be two of the major complaints. However, this is seldom the case for high end hotels. Luxury hotels receive mainly positive reviews. In addition, anyone paying $500 for a hotel room has the right to be demanding, and the luxury hotels of Tokyo should expect them to be.
The failure of hotels to respond on Tripadvisor is not isolated to Japan. In this excellent discussion thread on Linkedin, Paul Bayliss of The Macdonald Hotel & Spa Manchester sums it up: "Ignore TA at your peril as you may be missing out on a golden opportunity to engage, learn and grow your business. But as mentioned at the start most importantly it allows you to say thank you to your guests and hello to many potential new ones".